WELCOME TO MERIDA, YUCATAN
The city of Merida, also known as "the White City" or "the Capital of the Mayan World" is the capital city and has the largest population in the state of Yucatan, which is located to the southeast of the Mexican Republic. This city is located 1557 km from Mexico DF, 325 km from Playa del Carmen and 309 km from Cancun.
Merida, capital city of Yucatan, contains a vast infrastructure, which enabled it to become the hub of cultural attractions in the Yucatan Peninsula. It has over 5,919 hotel rooms of all categories, venues and exhibition centers, more than 300 restaurants of all kinds and class, and an extensive range of cultural and tourist attractions. It is the starting point for exploring the Mayab routes.
Merida, the ancient Mayan city of T ́ho(1) that traces the paths to discover the riches of the Maya civilization: it is a quiet, picturesque, romantic and bohemian city where stone is transformed into poetry and song, where the aromas, flavors and colors of the Yucatecan cuisine combine. Always magnificent, festive, harmonious and hospitable.
It is not possible to envision exploring Yucatan without Merida. With a wide supply of tourist services, hospitals, commerce and transportation, this city cultivates its status as a preferred destination for conventions, for family tourism and also for specialized adventure tours.
Merida is the combination of a city that wears both the flare of a splendid past and the modernity of consistent and planned growth: it became the main city of commerce in Mexico's Southeast.
This city is characterized by its colonial architecture, of somber style, with constructions of high ceilings and big windows (mainly in what we know today as the Historical Center). But above all, it is identified by the color of the quarry, a material found in the region and used in the construction of many buildings, which highlights the natural reflection of the sun -giving Merida its nickname of "White City"-, a fact that was also emphasized by the tradition of its inhabitants of painting their homes with bright colors.
Its history was carved in stone and can be found in each of its monuments, as well as in the authentic cultural tradition of its surroundings. To visit this city is to fill oneself with art and beauty, which is only lived in a destination such as Merida, the one in Yucatan.
---
(1) "Five hills" in Mayan language.
Merida's location in the State and Peninsula of Yucatan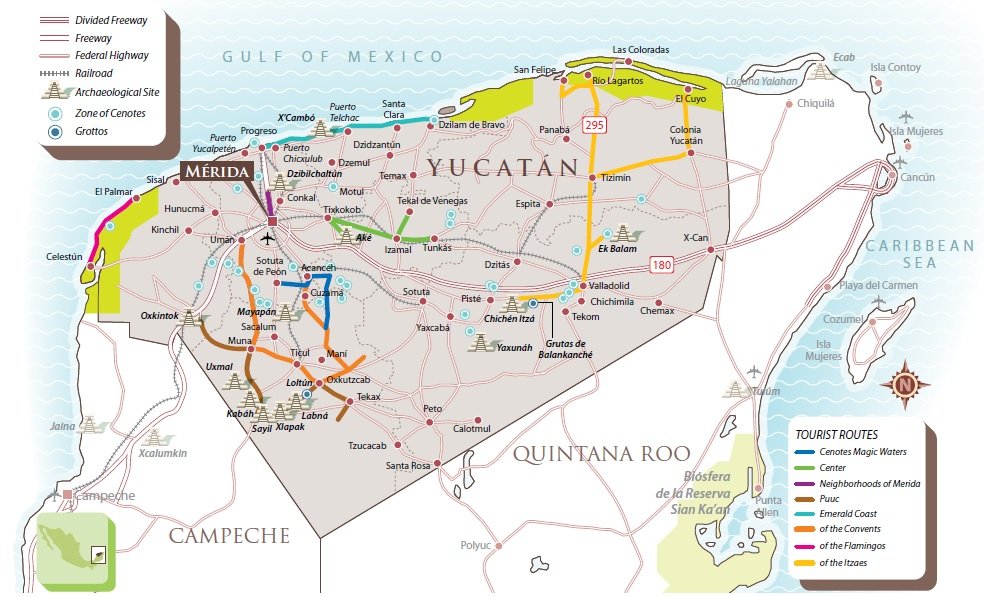 Sources: